Blue Bridge Leadership: A Grand Rapids, Michigan, Company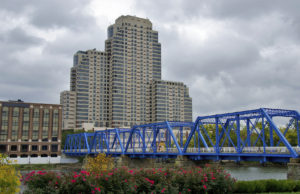 At Blue Bridge Leadership (formerly Kimberly Gleason Coaching), we provide a variety of career development and leadership development services. We work with individuals, teams, and organizations. Opportunities include executive and leadership coaching, team building, and corporate training. Plus, we offer career coaching, resume assistance, and outplacement solutions.
At Blue Bridge Leadership, we help talented people flourish. We believe in helping them reach their highest potential. Additionally, we partner with them to overcome their challenges and achieve their goals. And although we are based in Grand Rapids, Michigan, we have worked with clients all over the state and beyond. We have been interviewed and featured as experts in the coaching and leadership development industry. For example, media spotlights include Grand Rapids Press, Grand Rapids Magazine, Women's Lifestyle Magazine, Take 5 TV, West Michigan Woman Magazine, Carol Roth's Business Unplugged, WGVU's Business in Heels radio program, and WZZM 13 News.
Why work with Blue Bridge Leadership?
Blue Bridge Leadership understands the needs of people and organizations today. Additionally, our executive and leadership coaches bring rich knowledge and experience to the table. Backgrounds include sales and marketing, process improvement, leadership, teaching and training, business development, management, operations, and nonprofit work.
We are large enough to provide a variety of services to individuals and companies. But we are small enough to be personable, warm, and engaging.
Certified coaches make up our team. Most executive, leadership, and career coaches are not certified by a reputable organization, if at all. On top of that, our extensive training in coaching skills, processes, and models bring about sustainable change and results.
We base our work on research and best practices.
Our coaches are highly reputable. They have written over 80 magazine and newspaper articles. Also, media outlets have featured and interviewed them.
We customize all our services to your needs. No one-size-fits-all-approach here.
And measurement is critical. However, most companies do not emphasize this key component. In collaboration with our clients, we define, track, and measure results.
Not only do we bring experience, expertise, and credibility to the table, but also friendliness and fun! We believe that coaching is not just a professional relationship, but also an intimate relationship. A relationship that's based on trust and honesty. And a relationship built on collaboration, respect, partnership, and accountability.
Please contact us today for a free, no-obligation  consultation to inquire about coaching, training, or outplacement services for you, your leaders, your team, or your company.
© 2016 Blue Bridge Leadership
Grand Rapids, Michigan