Professional development testimonials: We've been judged!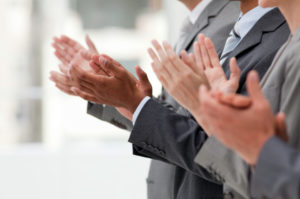 What better way to judge the effectiveness of Blue Bridge Leadership than to read our professional development testimonials? Below you will find nearly three dozen testimonials for our services. Those services include executive coaching, leadership coaching, professional development, corporate training, career coaching, and outplacement services.
Professional development testimonials for executive coaching, leadership coaching, and career coaching
"Thank you for all of your help…I have seen improvements in morale and efficiency from my crews and they seem to have really taken ownership in their projects. They are enjoying their work. Just a much better environment for everyone." (Nate Heyboer, manager, Buist Electric, Michigan)
"Kimberly was extremely helpful in helping one of our managers to change her management.  Our manager did not communicate her standards or expectations clearly. Through a very structured program, Kimberly was able to help our manager identify her problem behaviors and help her build a more constructive relationship with her team.  The attitude of her team has completely changed and they enjoy working with her.  By engaging her team in a more positive way, she has been able to increase the performance of the department, and her team is the most focused and effective it has been in years." (Alan Fehsenfeld, CFO, Crystal Flash, Michigan)
"[My coach] has given me great ideas and action plans to keep working on to improve my leadership skills. I feel more confident in my role, as it has giving me a different perspective in leading." (EJ Cook, project manager, Buist Electric, Michigan)
"Working with Kim has been a game changing experience! I was stuck in a career rut, not quite sure where to go to get out of the dead end I found myself in. I was unable to successfully land interviews for the hundreds of applications I had sent out….Thankfully Kim was able to help me with several different job hunting strategies, from networking, to interviewing and follow up, and even negotiations. Not only did she restore my confidence in my skills and what I had to offer a potential employer, but I have now made more personable network connections in my field than I ever thought possible." (Meagan Carr, Michigan, MPA, health and leadership)
"I highly recommend Kimberly Gleason as a coach.  I found her to be supportive, flexible and encouraging as I went through a recent job search. The tools she offered helped me to focus and move forward with the process effectively." (Mary Russcher, Chief Financial Officer)
"I'm amazed at all I've accomplished since we began working together!  Important areas of my non-profit that were formerly weak and neglected are becoming stronger as I follow through on action steps that we discuss….I consider Kimberly's coaching an invaluable asset as I seek to grow as a leader."  (Sandy Ralya, author of the book Beautiful Womanhood and executive director of Beautiful Womanhood, Michigan)
"Kimberly was a great help to sort through ALL the many 'to-do's' that I had to get done—mentally and physically in both office and home. Her ability to ask the right questions and assist me in thinking through my tasks and projects helped me prioritize, be more productive, and move forward with business and goals. If you are in 'overwhelm,' as I was at that time, or just need to think through a project, Kimberly can help you through your needs successfully." (Kelly Duggan, Kelly Duggan Image Consulting, Michigan)
"[Kimberly] is thoughtful and genuinely cares to see her clients reach their full potential….I enjoyed working with Kim, though at times I admit it was challenging, and I would highly recommend her to anyone who is looking for clear guidance in pursuing a big dream or perhaps facing a transition and looking to live a more purposeful life." (Tamela Spicer, non-profit executive director, Michigan)
"You did an excellent job of helping me sort through priorities and holding me accountable for the things that I said were truly important to me. With three business, four children (3 teenagers) and a wife of 18 years, it becomes increasingly important to make sure that my time is spent wisely and you helped me do that. The value I received far outweighed the investment." (RJ Regan, business owner, Michigan)
"When I met Kimberly initially, I was trying to determine in what direction to proceed with regards to my career. Kimberly found a great career interest test for me to take to help point us in the right direction. After that we came up with weekly goals which helped me focus on what I wanted to do and kept me working toward that goal. Kimberly did a very good job of helping to keep me accountable and make sure that I spent time on researching and investigating what would be the right direction for me. If you find yourself with indecision about some life goals and are looking for someone to help you move forward, I feel that Kimberly provides a great service. Kimberly is a great listener and is very good at holding you accountable to make sure that you accomplish the goals that you work with her to set up." (Sally Nelson, former journalist, Michigan)
"It was immensely helpful to have someone to work with. I appreciate how you helped me push through what I thought were barriers by suggesting solutions. I was able to set and reach goals, and through the process, realize my potential." (Carla Toson, CarlaToson Photography, California)
"Coaching has been an amazing experience for me!  Kimberly was able to help me cut through the clutter in my mind and assist me in refocusing my thoughts and efforts to more meaningful results.  I appreciate the way she walked beside me in support, yet effectively kept me accountable to my vision. Her insights and perspectives have been invaluable in helping me move forward to a more productive, peaceful, and meaningful life." (Joan Stembaugh, Certified Financial Planner, Envision Financial, Michigan)
"Since working with Kimberly Gleason I've noticed dramatic differences in my clarity and focus.  Between balancing my own business, two growing children, a loving husband who also wants to be loved, and a busy social life, I need all the guidance I can get.  I'm learning a lot about my priorities and eliminating the barriers to get to them.  I'm developing my whole person with intention.  Kimberly has an easy way of speaking- supportive and caring while keeping me accountable to myself.  I look forward to our weekly meetings.  She helps me move through life, bringing my family life, spirituality, health and business goals with me." (Jennelle Reisch, small business owner, California)
"I was able to identify my life's goals and reach many of them with the help of her wise and effective coaching.  Kim was a great listener and asked appropriate questions to help me identify and reach my goals. She is a compassionate and caring person, and she is very motivated to help others reach their goals. I highly recommend her coaching services to anyone who wants to see great changes!" (Teresa Boes, R.N., Michigan)
"Kim has helped to acknowledge my strengths and helped me to direct my energies in a positive direction. With her support, I am realizing that my dreams are possible and that I can accomplish them.  Her coaching has helped me know my inner beauty and help bring it to the surface. I am grateful to be working with her and look forward to my dreams coming to fruition." (Jessica Viers, California)
"She seems to bring out the best in me!  It is really neat to have somebody that is only wanting your best in every situation." (Teresa Faughn, winner of Women's Lifestyle Magazine of Kalamazoo life makeover contest 2010, Michigan)
"Kim was very helpful with my career direction process and kept me on target with a gentle and professional style. Kim is a personal and professional asset." (David P., sales,Michigan)
"Kimberly is a thoughtful, sincere coach. She approaches her work with a dedication. I have especially enjoyed her coaching articles. They provide excellent psychological material. I highly recommend Kimberly…to those who are looking for an accountability partner who will also mentor along the way." (Kerry Kerr McAvoy Ph.D., psychologist, Michigan)
"I highly recommend Kimberly. She is very informative and has excellent insight into how to help individuals in both their personal lives and in their business endeavors. Kimberly is easy to talk to and is pleasant to work with. She has excellent ideas and I would recommend her for any coaching clients or speaking engagements." (Jill Murray – JQ99/1260 The Pledge radio station)
"Kimberly is an excellent listener who conducts herself in a very professional manner. Her counsel is wise and she is a creative problem-solver. Kimberly is skilled at assessing, establishing perspective, and forming efficient strategies." (Susan Montsma, business owner, Michigan)
Blue Bridge Leadership offers executive, leadership, and career coaching services in Grand Rapids, Michigan, and beyond. Contact us today for a free consultation.
Professional development testimonials for our leadership development programs and corporate trainings
"Kimberly was a pleasure to work with and was very flexible and professional in coordinating and presenting four unique training sessions for our plant leadership team.  The 4-hour training sessions were interesting, interactive, and engaging and helped our team improve many important skills such as leadership, communication, teamwork, and time management.  Kimberly is a great trainer and I would recommend her to others who are interested in improving their teams' skill sets." (Kaitlin Brower, HR Director, Kraft Heinz)
"I've had nothing but glowing reviews about the training yesterday….They really enjoyed the session and felt like they got a lot out of it. Everyone was really impressed at how relevant it was to them and how engaging the training was." (Maggie Baker, Sr. Training Specialist, Trans-Matic)
"Kimberly presented "Picking up the Pieces: 5 Keys for Navigating Change…." Her presentation was power-packed as she combined hearing, seeing, and doing within the hour presentation. While providing an overall framework of fill-in-the-blank, she wove in a personal introspective exercise, peer-to-peer engagement and coaching, several object lessons, and concluded with a goals chart. The format engaged both the left- and right-sides of the brain and was amazingly effective in opening some avenues where we were "stuck", whether consciously or unconsciously. I believe Kimberly has a talent and passion for getting to her client's "whys" and partnering with them to define and plan a strategy for attaining that which is their "passion"." (Ruth Van Hoven, project manager, Michigan)
"Kimberly did a fantastic job presenting "Leadership Skills for Business Growth" at a recent seminar. She is knowledgeable, engaging, realistic and moved the audience to visualize themselves in ways they hadn't before. We would most definitely recommend and have Kimberly back to present again." (Taryn Misajlovski, director, Michigan Business and Professional Association)
"…Kimberly presented on 7 Principles for Effective, Successful Leadership. Her presentation was well thought out and engaged the audience throughout. She provided key principles and walked us through applying them to our life now. Kimberly is a great coach and I would recommend her to anyone who is a transitional phase of life, or someone who simply wants to understand how to get more out of life by identifying and articulating mission, vision and goals in life." (Tamela Spicer, non-profit executive director, Michigan)
"I know Kimberly as a skilled coach, excellent trainer, and a great colleague. She has worked with us as we have updated our training, and she is currently a training partner for us. We have benefited considerably from her insights and creative ideas." (Mike McGervey, co-founder and trainer, Empowerment Coaching Network, Michigan)
"Kimberly continually works to improve her craft and provide superb coaching services. Several recent published articles about Kimberly and workshops she has presented to the business community attest to her coaching expertise and presentation quality. I have found Kimberly to be a good listener who co-creates solutions for her clients and holds them accountable." (Judy DeLapa, executive coach, Michigan)
"Your research-based and life experience-based knowledge is so enlightening, encouraging, and helpful."  (Emily Perton, Mars Hill Church, group leader, Michigan)
"You did a great job at presenting [on self-care]…. I really liked the putting together a step-by-step plan or goal sheet. I think everyone can benefit from that." (Julie Wiseman, Hands and Voices Conference, Michigan)
"She reminded the group that it's important to take time for ourselves, even in the midst of caring for our families." (Laura Scott, director of Hands and Voices, Michigan)
"[Picking up the Pieces: 5 Keys for Navigating Change] was very helpful not only in navigating change through career transition but incorporating all aspects of life, community, and family." (Betty Harag, business development, Michigan)
"[Live Your Purpose, Leave Your Legacy] class forced me to sit down and look at how I spend my time. It also made me look at my values and the things I love to do. It allowed me to start the ball rolling in trying to determine what I want my life purpose to be." (Sally Nelson, participant, Michigan)
"Kimberly asked us high-gain questions that were thought provoking." (Cindy Tamke, co-chair of Inforum Women on the Move group, Michigan)
"Lots of good material to get me thinking about next steps in marriage improvement." (CHADD member, Michigan)
"Ideas and program well-conceived and well presented." (CHADD member, Michigan)
"[Your workshop] motivated me to think for myself about what I want to change instead of just being fed info that I wouldn't remember." (MOPS member, Michigan)
"We went through some thought provoking exercises that offered some self-exploration and ways in which we can work to help ourselves….Your strategies are truly great reminders that we all need to implement.  An overall great presentation!"  (Carol Lippert, board member, Autism Society of Kent County)
Contact Blue Bridge Leadership
With so many professional development testimonials, you can trust us to take care of your needs. Blue Bridge Leadership offers executive coaching, leadership development, corporate training, career coaching, and outplacement services in Grand Rapids, Michigan, and beyond. Contact us today for a free consultation.
© 2019 Blue Bridge Leadership
Grand Rapids, Michigan