Leaders: Lets' Have Some Applause for Paws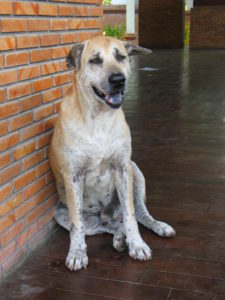 Know any great leaders whose feet smell like corn chips and are hairy to boot?
I do. I work alongside her nearly every day. Actually, there are two of them. Right by my feet, where they lay silently. They wait for me to bless them with a glance their way. And they're eager to thump tails on the floor when I do.
They are good dogs, Zoe and Maddy. They're not only part of the family, but they also have great influence. They've got us wrapped around their little paws.
Leaders would be wise to take a cue from my dogs. Yeah, I know. Dogs eat vomit, sniff each other hello. Oh, and they lick themselves clean. I don't advise you do that—at least not in public. But there are a great many lessons you can learn from them.
Leaders Have Doggy Loyalty
Remember the classic Where the Red Fern Grows? Essence of story: Brother and sister dog love each other, grow up, and die together. Dogs are loyal. To us. To each other. For example, if you try breaking into my house, the Jaws of Death will lunge at your neck. And where one dog goes, the other follows. This includes getting out the front door as they chase each other off into the distance, ignoring my pleas to "Come back!" (Okay, so this is where my loyalty metaphor breaks down; loyalty to each other is sometimes more important than loyalty to me).
Can you imagine what the workplace would look like were leaders to show loyalty in all their dealings? Loyalty to the vision. Loyalty to the values. Loyalty to staff's development. And loyalty to work-life balance and boundaries.
Leaders Are Part of a Wolf Pack on a Mission
Open the door to the backyard, and—pop! goes the gun—they're off! That squirrel never did see it coming. Just kidding. They've never caught one, but their vision is clear: death to all squirrels (and all rodent life). Their mission? War against the fuzzy enemy. How? Together! Stand in their path? Do you want stay alive?
Effective leaders, too, not only cast the vision but also help those they lead to adopt it for themselves. Whether the vision is squirrels or creating a new market, they engage their team in the mission, trampling "it can't be done's," plowing through obstacles, and chasing after the dream. And how the vision and mission is accomplished is through teamwork and collaboration.
Leaders Demonstrate Puppy Love
When I return home from being gone, my dogs jump up with excitement, licking my face. You know, as if I've been gone for days on end. A whole 20 minutes is an eternity for them. I should be so thoughtful when my children come home from a hard day's work at school. No, I wouldn't lick their faces, but I certainly could behave as if they are the dearest things to me (because they are), as if I've missed them so much (well, most the time).
Puppy love—a love that is fierce and unselfish.
Leader—do you express this kind of love for your people? The kind that demonstrates servant leadership? Plus, the kind that elevates others before yourself? Act as if your colleagues and staff are the best ever (they are!), and they will love and protect you in return.
Leaders Persevere All the Way to China
If anybody is going to dig his or her way to China, it's my dog. You should see my yard—holes, holes everywhere. Never give up! is their motto
Similarly, successful leaders persevere. Despite hardship and headache, they keep going until they reach the goal, even when they have to adjust the destination from China to Brazil, because of change and uncertainty. With sweat and passion, they tunnel their way to success, not letting a little dirt (or a lot) stand in their way.
So there you have it—four ways we ought to behave like dogs. Hmmm. I wonder if there are squirrels in China? Forget I asked. We wouldn't want the dogs to find out.