Recently, a major study deemed the most significant purchase one can make:
Don't buy objects. Buy memories.
Contrary to popular opinion,  we can purchase happiness with our hard-earned dollars. While we can't find happiness by buying clothing, cars, knick-knacks, movies, and the like, we can purchase happiness when we invest in doing things that are memorable.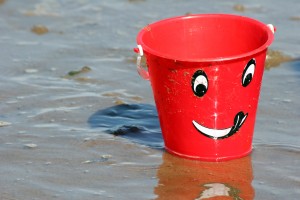 For example, I have a beautiful painting on my wall. In muted shades of turquoise, pinks, and creams, the painting matches my furniture and the overall "Shabby Chic" feel of my home. But the only joy it brings is on a superficial level. Yet a sense of peace and happiness overcomes me when I remember my family's trip to northern Michigan last summer. For a whole day my husband dug for Petoskey stones. Patiently he dug several feet down into the packed earth, tossing stones into a bucket of water to clean them off, and then discerning whether or not the stones possessed the famous pebbled look of lore.
Money well-spent.
Those summer memories were worth the costs of gas, campground space, and campfire food. The money I spent was worth it then, and it is worth it now when I stoke my memories.
Each of us only has so much money to spend. So here is my challenge to you: Invest in memory-making. What memories do you want to invest in this year? Put your ideas in the box below.